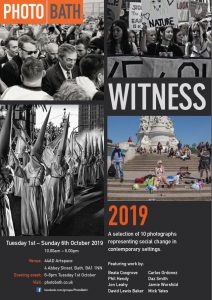 The world is currently going through significant socio-economic, cultural and political change. We are entering an era of uncertainty, anxiety and disruption that is touching every aspect of our public and private lives.
The WITNESS project aims to create a visual document to represent, social and cultural changes – to create a powerful, living record of everyday life in extraordinary times.
'Witness' presents an opportunity to develop a photo documentary archive that other photographers, and photography networks can contribute to, and form the basis for collaborations with journalists, writers, artists and other relevant projects.
The WITNESS Exhibition 2019.
Fifty seven images were submitted from nineteen photographers. A curation team of three experienced photographers & curators then chose the final ten images for the exhibition.
The exhibition was presented at 44AD Gallery in Bath from 1-5th October, 2019. Below are a few images from the exhibition and opening night. Images – Mick Yates – mickyatesphotography.com
The Ten final curated images:
The 57 Submitted Photographs.